About
The Biodiversity, Agriculture, and Culture of Taiwan (in short BACT) program provides an opportunity for international and NTU local students to learn about the valuable biodiversity, intensive agriculture and Asian culture in Taiwan. The 4-credit program is divided into four parts, namely lectures, institution visits or field trip, hands-on practice and team project. The most attractive part of the program is that you will have the chance to travel around Taiwan and see by yourself the transition of the scenery (tropical to temperate, city to nature, sea to mountains) from the 0 to 3,400 meters high elevation. Join us!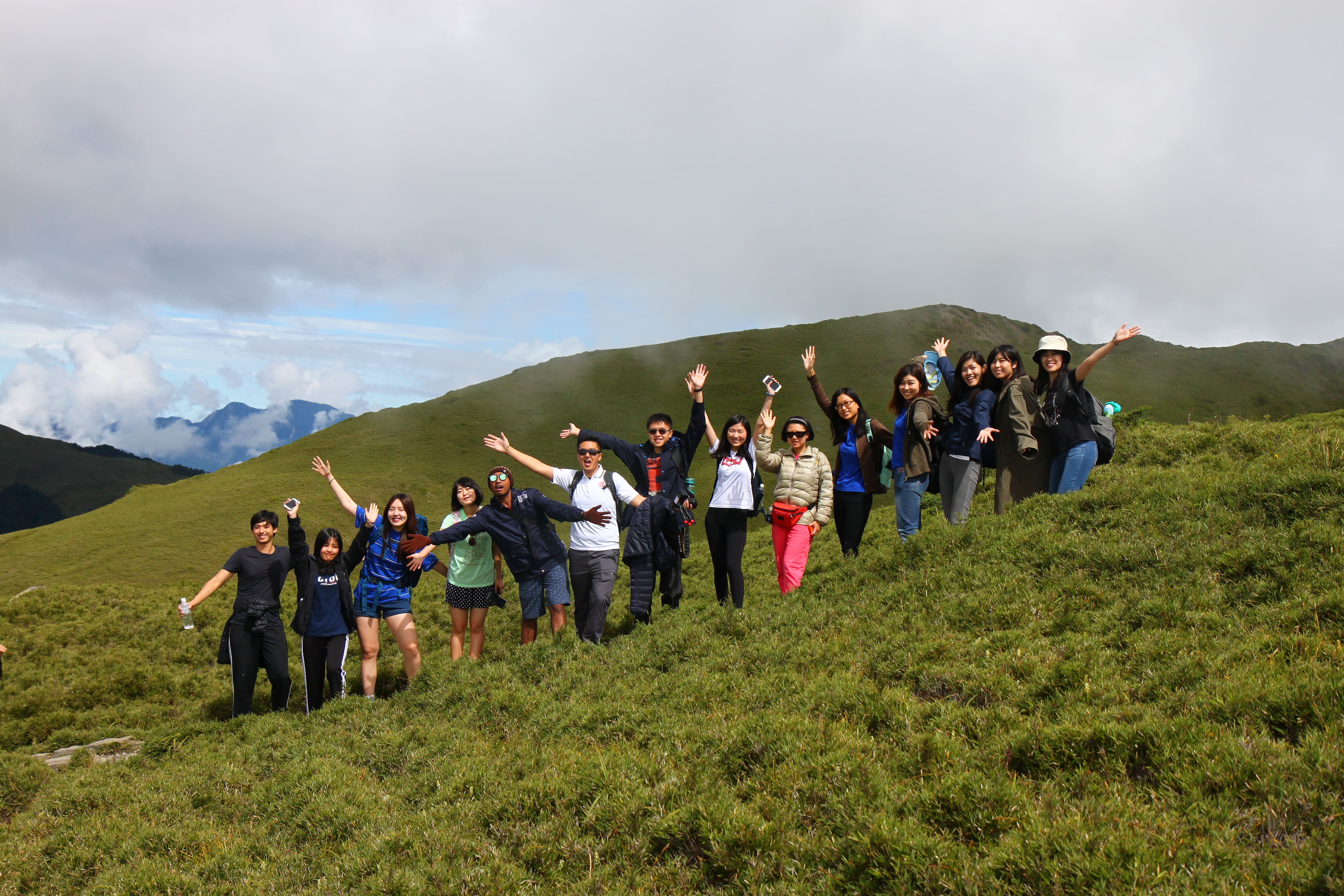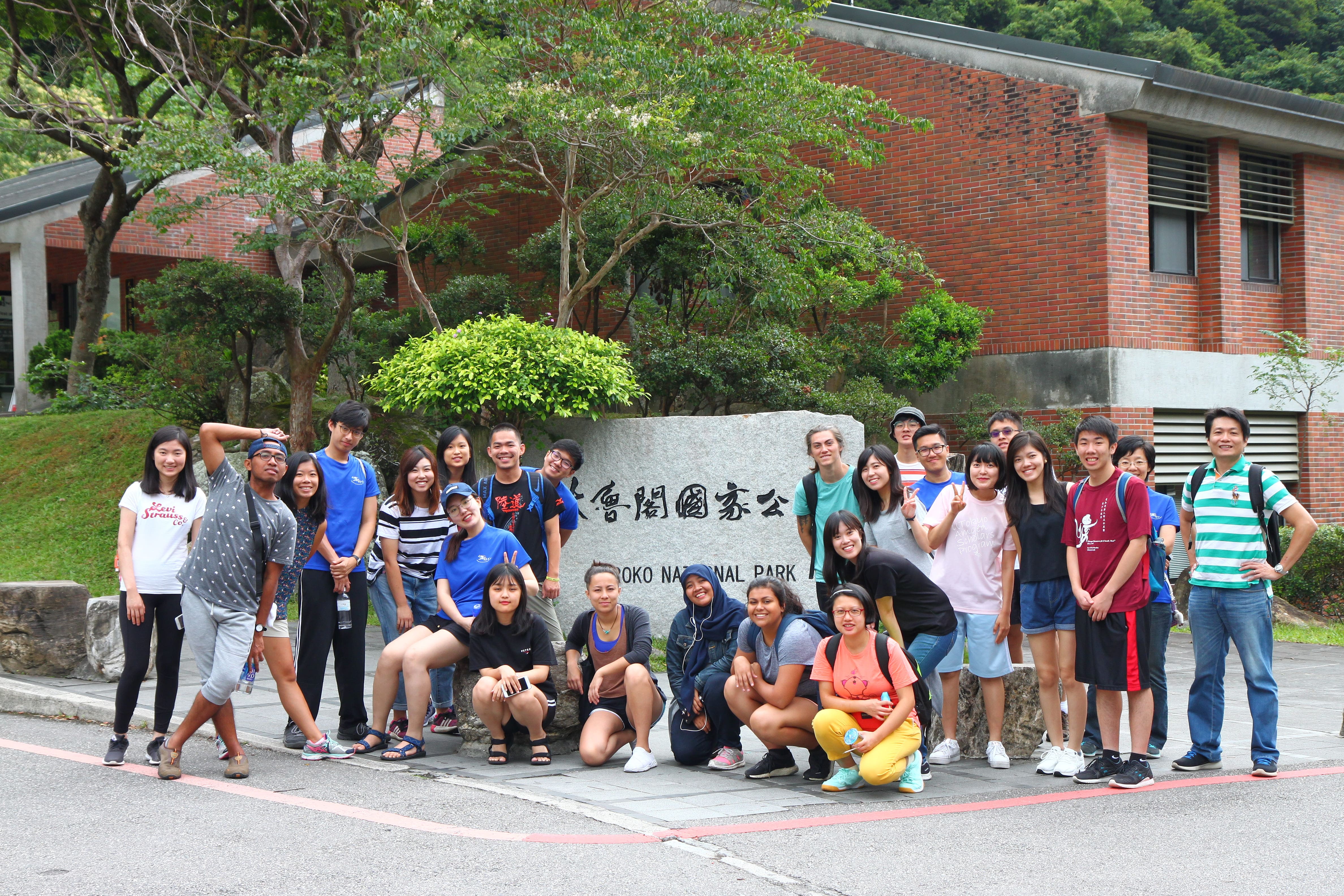 Course
2023 Summer+ Programs
Biodiversity, Agriculture, and Culture of Taiwan (June 26 - July 25, 2023)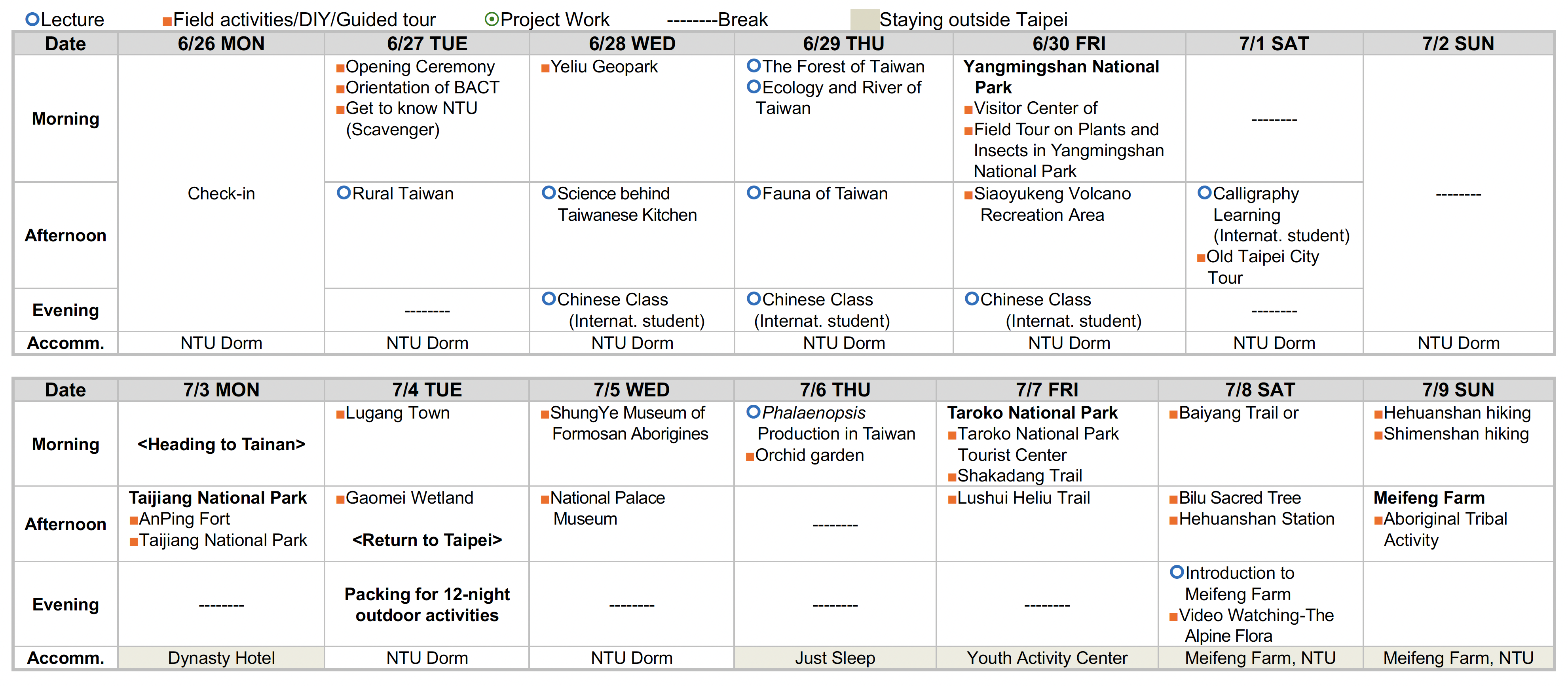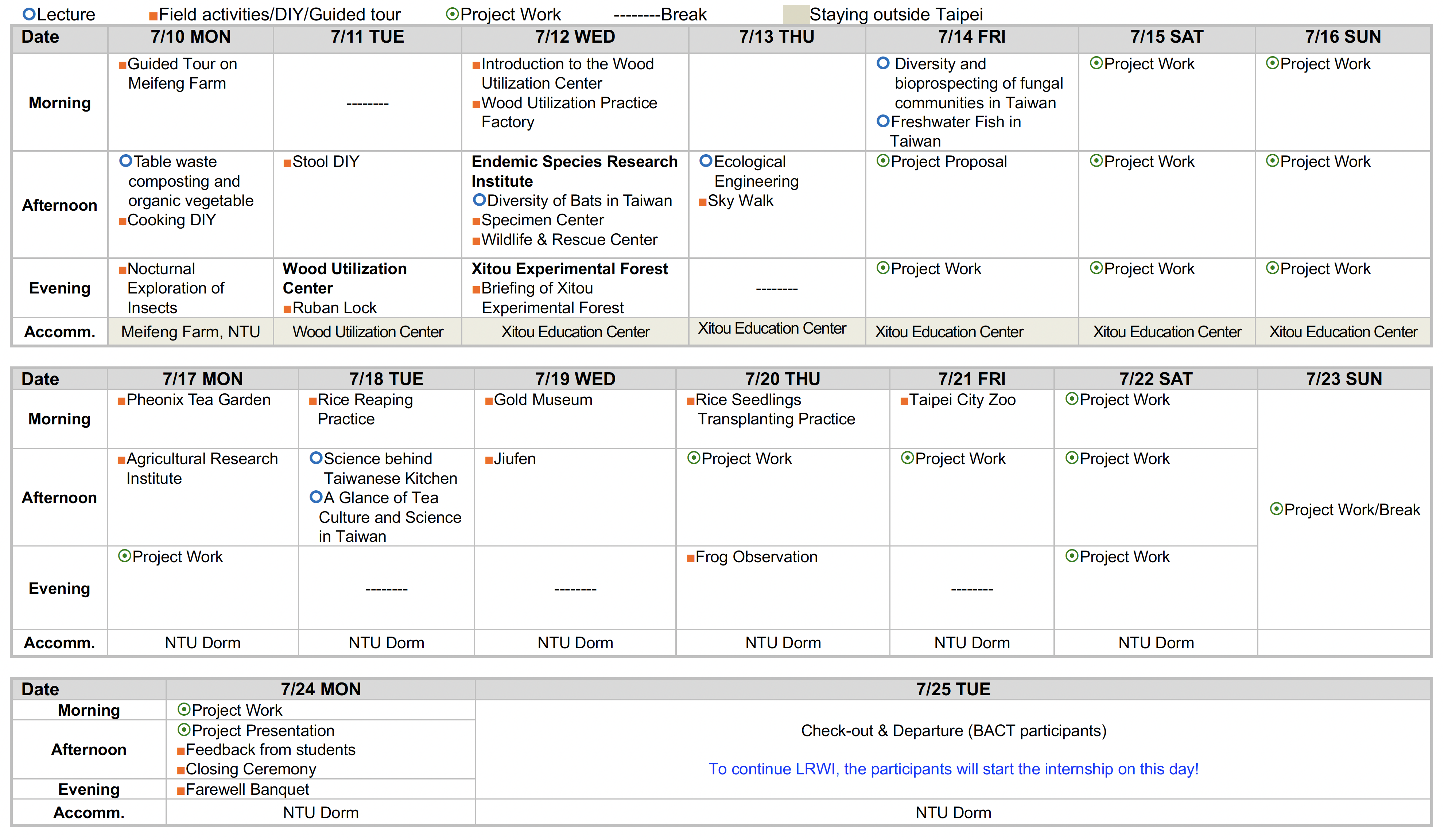 ■Get to know Taiwan's biodiversity, agriculture and culture
■Explore nature from the coast to high mountains up to 10,500 ft high!
■Visit National Palace Museum, Endemic Species Research Institute, CBA's experimental highland farm, experimental forest, coastal cliff, aboriginal tribe etc…
■Hands-on experience, such as stool making, Ruban rock, rice reaping, and harvesting
■Fully English-taught with 4 credits offered
Screening result and notification of acceptance: before April 7, 2023

All participants are responsible for: their own transportation from the airport to the NTU dorm. When participating in the program in Taipei, every two students of the same gender will share the same room with their own single bed. However, every two students of the same gender have to share the same bed (4 people and 2 beds in general) when staying outside of Taipei for about 2 weeks, particularly for BACT participants.

Assessment on each application is always required before the applicants get accepted.
Fees

BACT program fee covers course materials, program T-shirt and bag, all the accommodation, a fixed amount of electricity/water fee, three fifths of meals, transportation in Taiwan.
LRWI program fee covers room fee and lab materials. Students are responsible for their own living expenses, including meals and transportation. LRWI program is only applicable for the students of partner colleges listed in below [How to Apply].
Refund Policy
The application fee is non-refundable under any circumstances.
The program fee is: 
fully refundable if NTU cancels the program.
90% refundable if the student cancels the program before the start of class.
50% refundable if the student cancels the program before finishing 1/3 of the program.
not refundable if the student cancels after finishing more than 1/3 of the program.
How To Apply
To apply for 2023 BACT, we need your university or college to send us your application if you are a student of our partner colleges below.
UIUC: Director Ali Freter, ACES Study Abroad (freter1@illinois.edu)
Cornell University: Ms. Jess Hawkey, Academic Exchange & International Engagement Global Fellows Program (cals-exchange@cornell.edu)
Purdue University: Ms. Kara Hartman (kjkohlha@purdue.edu) University of Tokyo: Ms. Mari Morishita (morishita.mari@mail.u-tokyo.ac.jp)
University of Tsubuka: Dr. Junichi Abe (abe.junichi.p.gn@u.tsukuba.ac.jp)
Seoul National University: Dr. Dr. Sung Jin PARK (lutralutra@snu.ac.kr)
Dongguk University: Ms. Yoojung Yang (crystal557@naver.com)
We will contact and inform you of the online website (for registration and payment use) after we receive your application. So you can register and pay the fee online. The application should be done before March 31.
** For those who are not from our partner colleges, please directly contact Mr. Jack Hsu via ntuciaeae@ntu.edu.tw. We will check vacancies and will send you the application form and also let you know when to register online.
Before March 31, 2023
Contact Jack Hsu (ntuciaeae@ntu.edu.tw) first before you pay the application fee and program fee. We need to check vacancies as the program has a limited number of participants.
Jack Hsu
ntuciaeae@ntu.edu.tw
Tel: +886-2-3366-4215