About
The NTU +N1 Biotechnology program is a 2-week English-taught course that provides hands-on laboratory experience and biotechnology lectures. Led by distinguished professors, students learn core techniques and gain insights into the latest research findings. The program promotes interdisciplinary learning, broadens students' vision and fosters a global perspective.
Biotechnology Talks
During the biotechnology talks, distinguished researchers from NTU will present the most recent discoveries and trends in various research areas.
Laboratory Experience
You will have the opportunity to participate in a state-of-the-art research project and gain expertise in essential techniques, all while being mentored by renowned professors.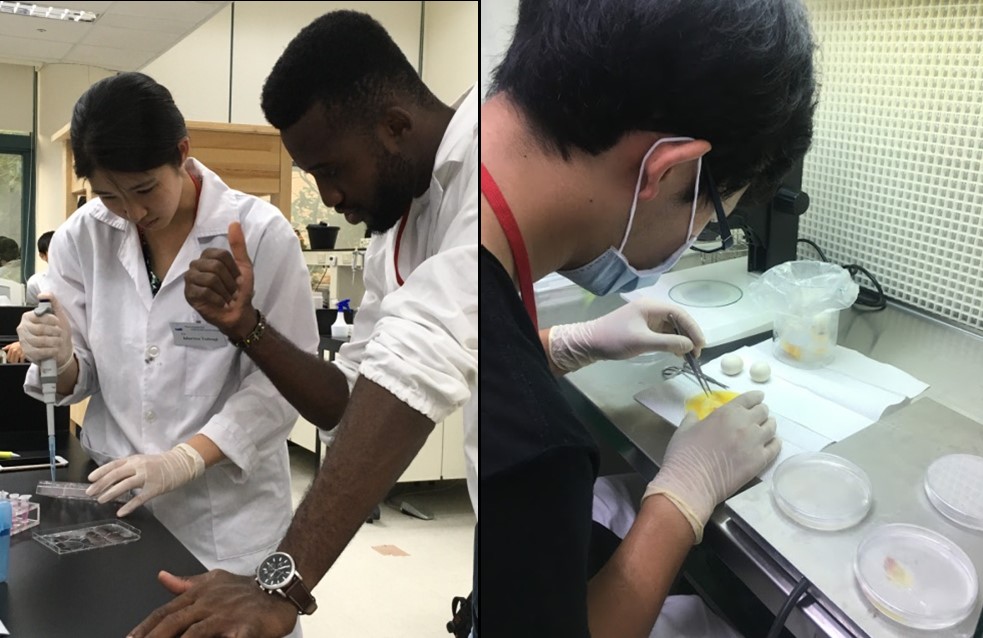 Course
2023 Summer+ Programs
Program on +N1 Biotechnology ( Aug14-20, 2023)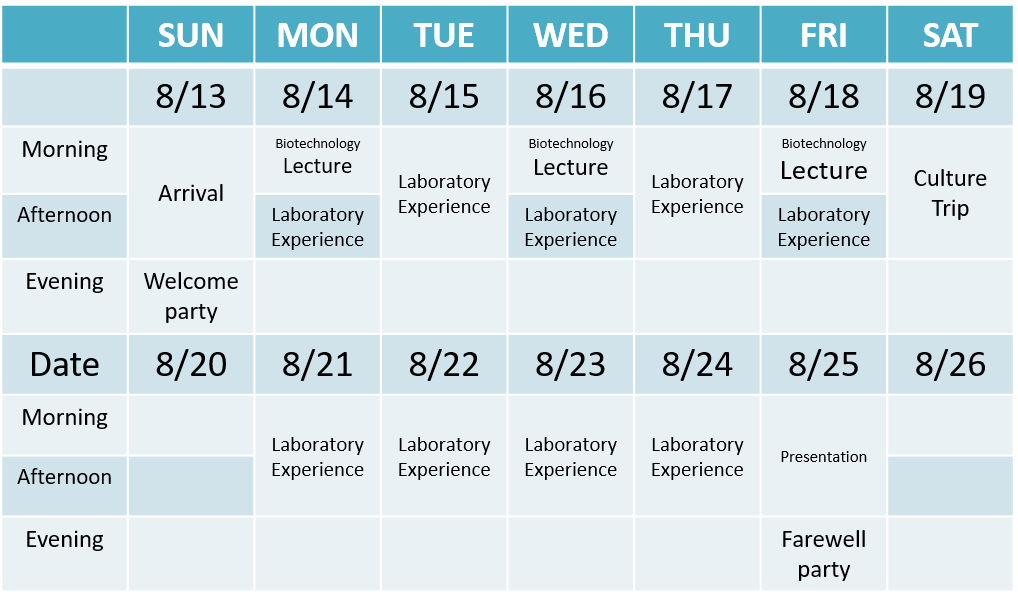 NTU +N1 Biotechnology
NTU +N1 Biotechnology is a 2-week English-taught program combining laboratory experience with biotechnology lectures. It's a wonderful opportunity to start a research project and learn current biotechnology knowledge. In the laboratory experience, NTU faculty from a variety of fields could be chosen. You will conduct the cutting-edge research project and learn core techniques under the supervision of distinguished professors. In the biotechnology lectures, top NTU researchers will share the latest findings and tendency in different research fields. It's an excellent way for interdisciplinary learning. Furthermore, +N1 creates an environment of cross-cultural communication. Your sense for globalization will be fostered and your vision will also be broadened.
One-day Field trip
Apart from laboratory sessions and lectures, a field trip will also be included in the program to expose students to Taiwanese nature. Students will have the opportunity to visit Sanxia Forest Park, where they can observe the vast array of plants and animals native to Taiwan. This excursion is bound to be a memorable experience for all those who participate.
Fees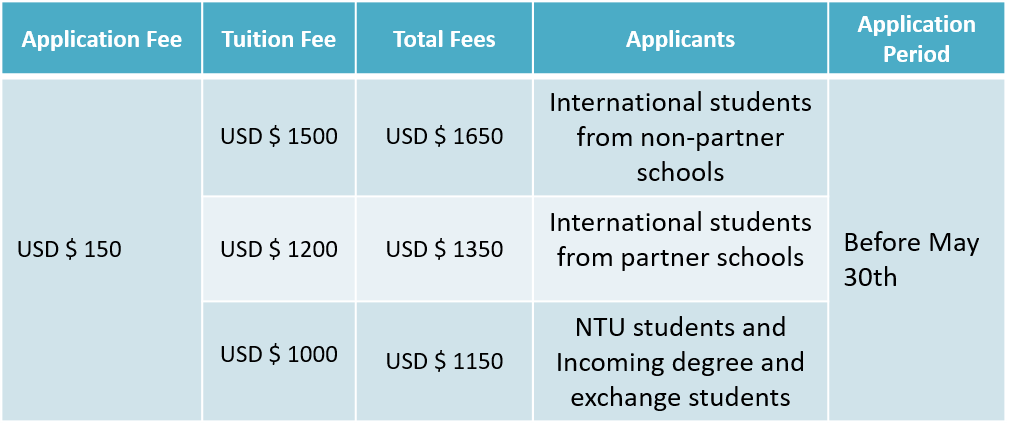 Refund Policy
The application fee is non-refundable under any circumstances.
The program fee is: 
fully refundable if NTU cancels the program.
fully refundable if the student cancels the program before

May 15th

90% refundable if the student cancels the program before the start of class.

50% refundable if the student cancels the program before finishing 1/3 of the program.

not refundable if the student cancels after finishing more than 1/3 of the program.
*Please note our program is a package, including some optional activities. The fee for activities won't be refunded if you choose to be absent from these activities.
How To Apply
Age: 16 or above
Before May 30th, 2023
Application procedures:
Register and verify your email 
Fill in the online application form
Pay the application fee USD 150 online by credit card. (non-refundable)
Upload Documents:
I. A color copy of your official transcripts (PDF format)   
II. A head-shot photo (jpg format)   
III. Personal statement (PDF format)
Check the result: The submitted documents will be reviewed by NTU and will send the acceptance/rejection notice.
Pay the program fee with 5 working days after receiving the acceptance notice. You can choose to pay by bank wire or by online credit card.
After NTU confirms your payment status, you are able to fill in admission information. NTU will send you the Admission Letter and Pre-departure guide before the program starts.
* If you pay the program fee by bank wire to Hua Nan Commercial Bank, NTU Branch, please note that you need to consider exchange rate discrepancy and the wire fees charged by your bank and Hua-Nan bank in order to make sure you make the exact amount payment to NTU account. Hua-Nan bank may charge additional USD 20 wire fee.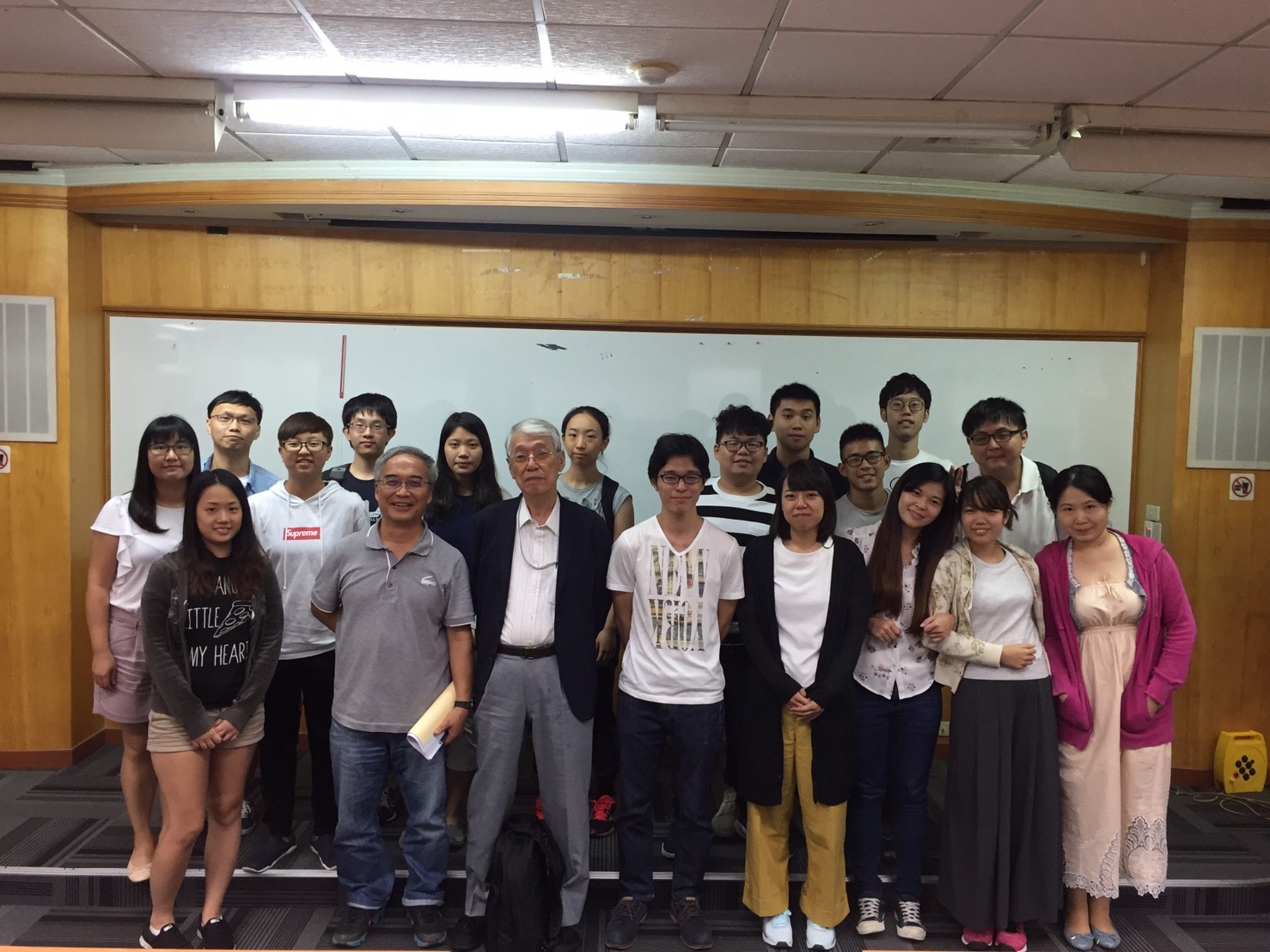 Chau-Ti Ting
ctting@ntu.edu.tw

Shun-Chern Tsaur
stsaur@ntu.edu.tw
Tel:+886 2 3366 2522