About
In this program, students will have the opportunity to participate in all fields of research at NTU's state-of-the-art laboratories led by their respective professors. Laboratory work consists of working with other Graduate students of the university, as well as other participants in the program. Students can immerse themselves in Taiwanese culture through a range of activities and daily interactions with locals. It provides the opportunity to experience college life in a different country and environment.
Course
2023 Summer+ Programs
Intensive Research Program (June 26-August 18, 2023)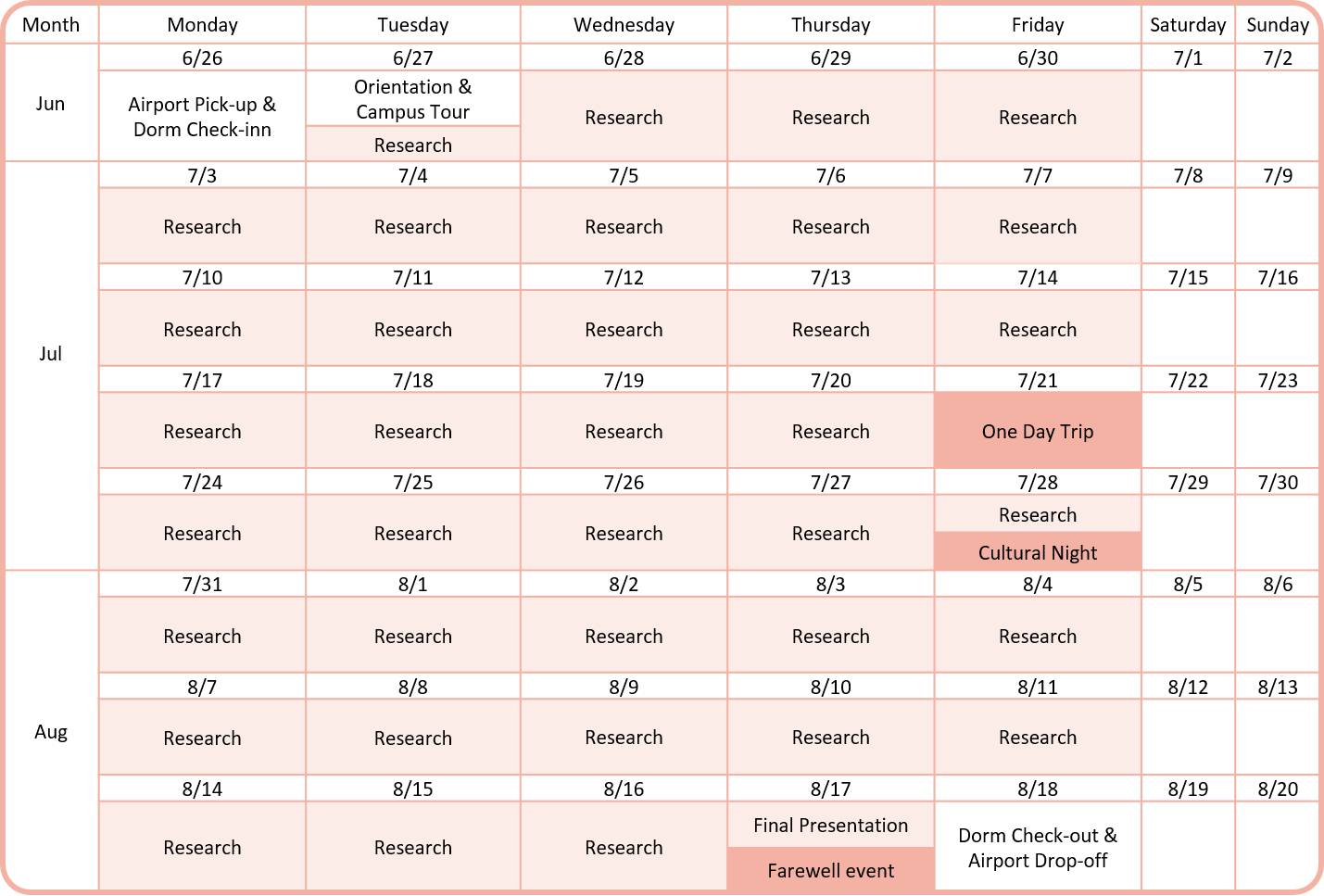 *The schedule is subject to change. 
Research Course Introduction
The 2022 +R4 Summer Intensive Research Program offers non-credit classes for international students. This program will be a great way for participants to gain research experience and insight into the research process while working alongside our leading professors. Students will either work with the faculty member in an ongoing research project or a new project of mutual interest. To take part in a world-class research team, students will not only experience postgraduate studies but also establish professional networks for future careers.
 
Students are expected to complete projects/assignments assigned by the professor and give a final presentation to assess individual students' learning and performance. Upon successful completion of the program based on the evaluation criteria set by the professors, students will receive a certificate at the end of the program.
Departmental research offices and labs available include:
College of Science;
College of Electrical Engineering & Computer Science;
College of Engineering;
College of Bio-Resources and Agriculture;
College of Life Science;
College of Public Health;
College of Medicine;
College of Liberal Arts;
College of Social Sciences;
College of Management;
College of Public Health;
and College of Law.
Faculty List
*Upon successful completion of the program, participants will receive an academic transcript. If they wish to have their credits approved, they should consult their home institutions and credit advisors in advance.
 
Program Period
June 26-August 18, 2023 (8 weeks)
Lab Safety Precaution Lecture
For those who participate in the laboratory, a mandatory lecture about NTU Safety Precaution will be delivered during orientation.
Fees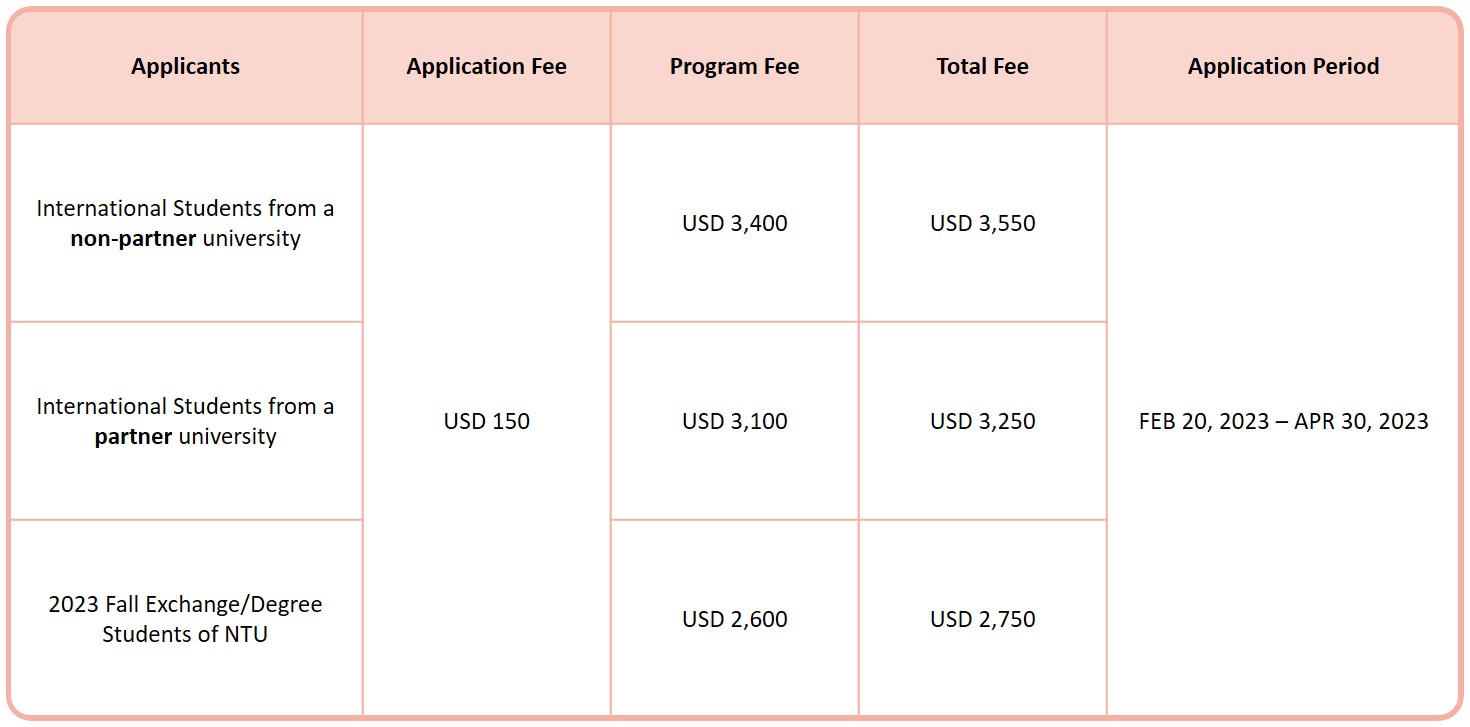 The program fee includes tuition, housing, orientation, cultural courses, and activities.
*Housing: on-campus double occupancy dormitory with community bath.
*Housing spaces are limited.
List of partner institutions
Refund Policy
The application fee is non-refundable under any circumstances.
The program fee is: 
fully refundable if NTU cancels the program.
90% refundable if the student cancels the program before the start of class.
50% refundable if the student cancels the program before finishing 1/3 of the program.
not refundable if the student cancels after finishing more than 1/3 of the program.
*Please note our program is a package, including some optional activities. The fee for activities won't be refunded if you choose to be absent from these activities.
*The Application fee for Taiwan Entry Permit (USD 30) will be added to the program fee (PRC students only).
How To Apply
This program is open to all international students who are:
Graduate students currently studying at an international university. Minimum GPA of 2.7.
Undergraduate students currently studying at an international university.  Freshmen and Sophomores please consult with the professor you wish to study with from our NTU Faculty List before application. Minimum GPA of 2.7.
High-School students in Junior years and above, please consult with the professor you wish to study with from our NTU Faculty List before application.
Your application will be reviewed once you upload all documents.
English Language Requirements
Taiwan culture courses are conducted in English. Students whose first language is not English should have at least an intermediate proficiency of the English language (equivalent to TOEIC 600 or above).
February 20, 2023 - April 30, 2023
Application procedures:
Register and verify your email 
Fill in the online application form
Pay the application fee USD 150 online by credit card
Upload Documents:
-A color copy of your official transcripts (PDF format)         
-A 1-page Statement of Purpose written in Chinese or English (PDF format)
-A Recommendation Letter in Chinese or English (PDF format)
-A head-shot photo (jpg format)
-*Student Enrollment Verification 在學證明 (only for students holding PRC passport)
Choose up to 3 NTU Plus Academy Faculty from the Faculty List whom you would like to work with during the Research Program based on your study goals and/or interests. Rank in order of preference. (For those who have already been in contact with a professor listed in the \\\"Faculty List\\\" and got a permission from the professors, please contact us directly and provide the professors name and department. We will help you with later logistical arrangements once your application is confirmed.)
Check the result: The submitted documents will be reviewed by NTU and will send the acceptance/rejection notice.
Pay the program fee with 5 working days after receiving the acceptance notice. You can choose to pay by bank wire or by online credit card
After NTU confirms your payment status, you are able to fill in admission information. NTU will send you the Admission Letter and Pre-departure guide before the program starts.
* If you pay the program fee by bank wire to Hua Nan Commercial Bank, NTU Branch, please note that you need to consider exchange rate discrepancy and the wire fees charged by your bank and Hua-Nan bank in order to make sure you make the exact amount payment to NTU account. Hua-Nan bank may charge additional USD 20 wire fee.
中國大陸同學申請規定
入臺證辦理須時1~1.5個月,請務必於4/20前完成申請及繳費,並於4/30前繳清所有入臺證辦理所需文件。在您的入臺證尚未正式批准前,請勿離開您的所在地(或所在第三國)感謝您的配合。
請注意,切勿自行辦理 \\"自由行簽證\\",否則將無法以自由行簽證參與本課程!

Please note that it requires 1 to 1.5 months to apply for the ROC Exit/Entry Permit, students of Mainland China nationality must complete all the documentation before April 30. Please note that if you are currently outside of China, please do not leave the country until your Taiwan Entry Permit has been successfully approved.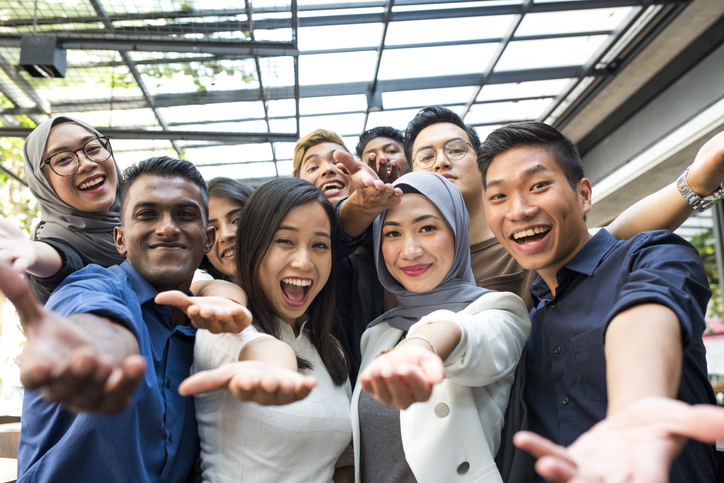 Sendy LIN (Ms.)
ntuplusacademy@ntu.edu.tw
Tel: +886-(0)2-33662007 ext 235