About
National Taiwan University (NTU) and the University of California, Los Angeles (UCLA) are jointly launching the inaugural summer institute on American society on NTU campus in Taipei in July 2023. The 2023 NTU-UCLA Summer Institute offers students the opportunity to explore American society through a social sciences lens, and will cover seven main substantive themes: Arts and Culture; Migration and Urbanization; Social Problems; Politics; Law and Society; Economy; and Global Strategy. The overall course structure will involve 20 lecture sessions (2.5 hours each) mainly taught by experienced instructors from the U.S., and 9 tutorial sessions (1.5 hours each) run by teaching assistants. Most learning activities will be conducted at NTU College of Social Sciences in Taiwan, with opportunities to explore the global city of Taipei and a field trip to Kinmen Islands. Requirements include active participation in lectures and tutorials, completion of course assignments, and the provision of course evaluations and feedback. Upon completion of the Summer Institute, students will receive 2 course credits from NTU and a Certificate of Participation from the UCLA International Institute.
Study American Society from a social science perspective in Taiwan
What is American society and how can people understand this vast, complex, and diverse-heritage nation? When studied through a social science lens, far off the US mainland in Taiwan, American society can be seen in a more nuanced light, beyond surface-level understandings that are commonly circulated in mainstream media and news.
Explore Kinmen, a Cold War frontline
In addition to the global city of Taipei, this summer institute also includes a field trip to Kinmen Islands, once the cold war frontline between China and Taiwan.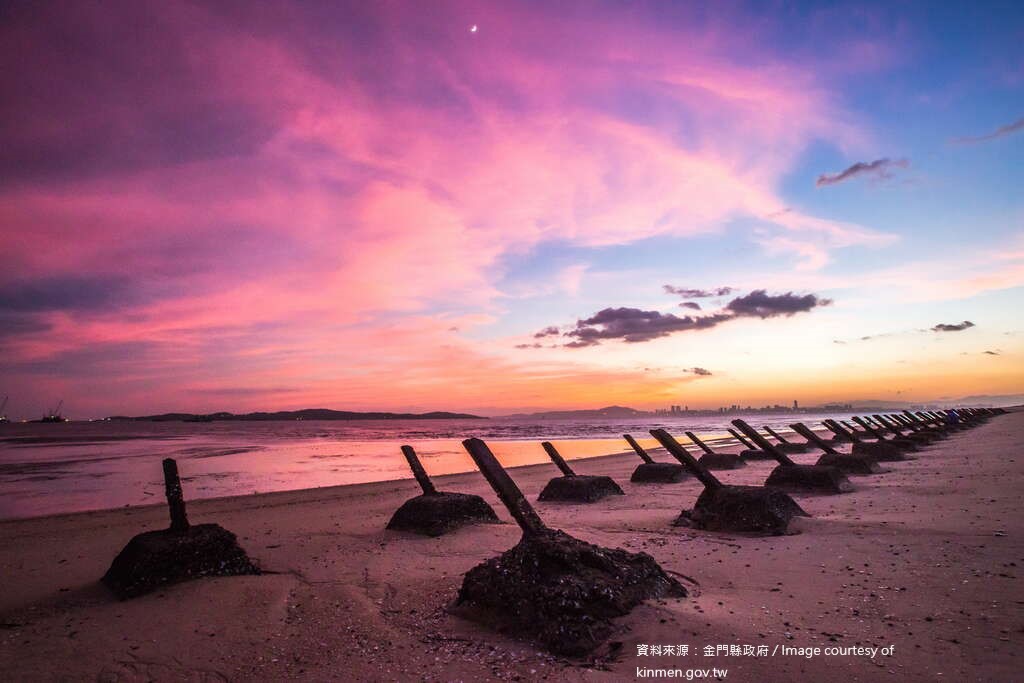 Course
2023 Summer+ Programs
UCLA-NTU Summer Institute on American Society (July 4-24, 2023)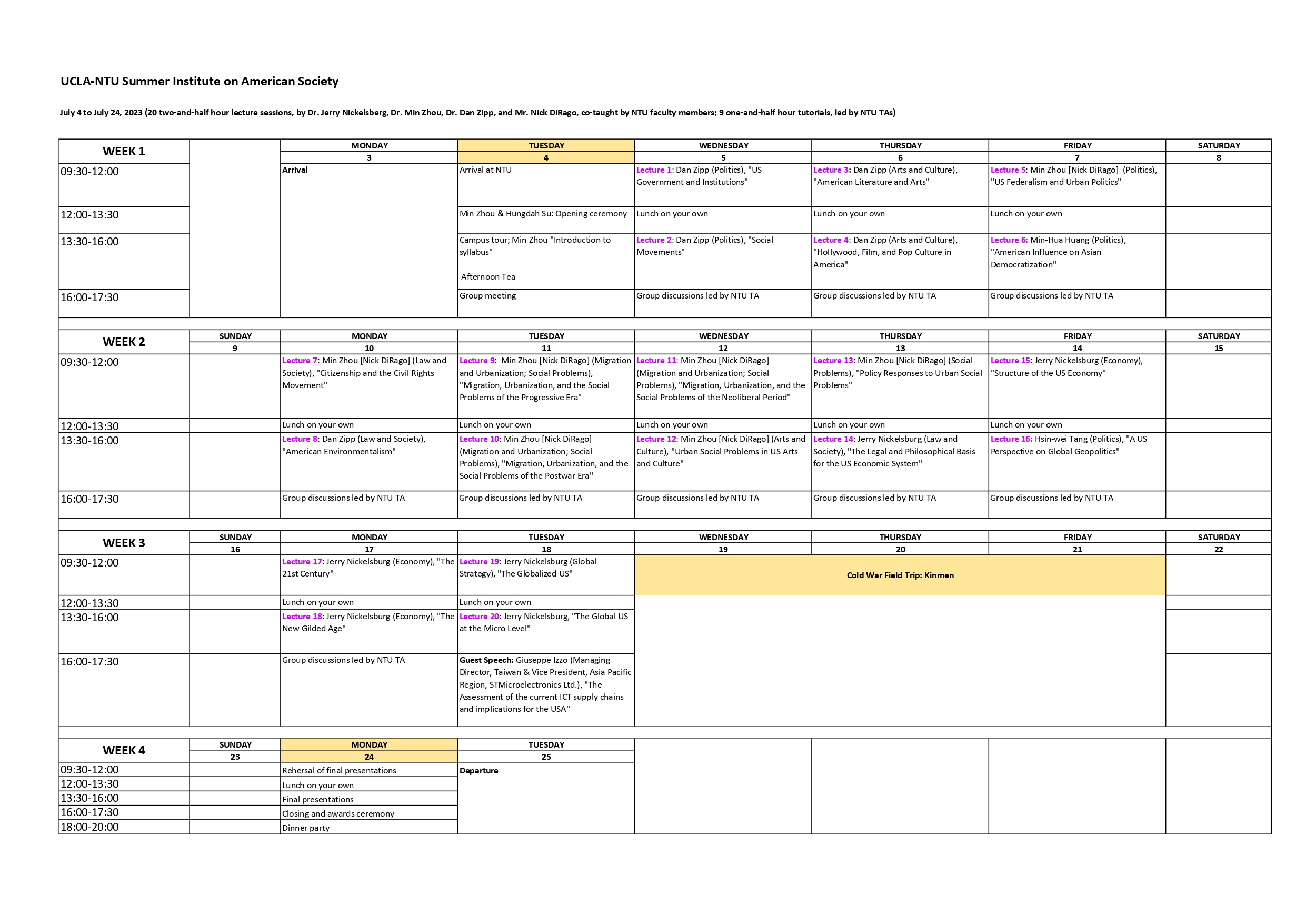 First Week: The US government and its institutions
In the first week, students will become more familiar with the ways in which its political systems and structures operate as well as the social and civil rights movements that have emerged throughout America's history. Students will also engage with key works of American art, music, literature, and film and explore the concepts of what it means to be an American, the American Dream, and American ideals.
Second Week: Urbanization, urban politics, migration, and social problems in the US from historical and contemporary perspectives
In the second week, students will take a deeper dive into urbanization, urban politics, migration, and social problems in the US from historical and contemporary perspectives, and examine citizenship, identity, social inequality, and environmental issues within the American context. Students will also learn about the US economy, including the legal and philosophical bases of the US economic system as well as historical developments and transformations that led to its current form today.
Final Week: The trends in globalization
Finally, students will consider the trends in globalization and global protectionism, as well as study the decision-making processes of business organizations across industries such as retail, social media, finance, and aerospace. The topics and themes covered in the course of this program will help students walk away with more well-rounded, multi-faceted understanding and perspectives on American society.

 
Fees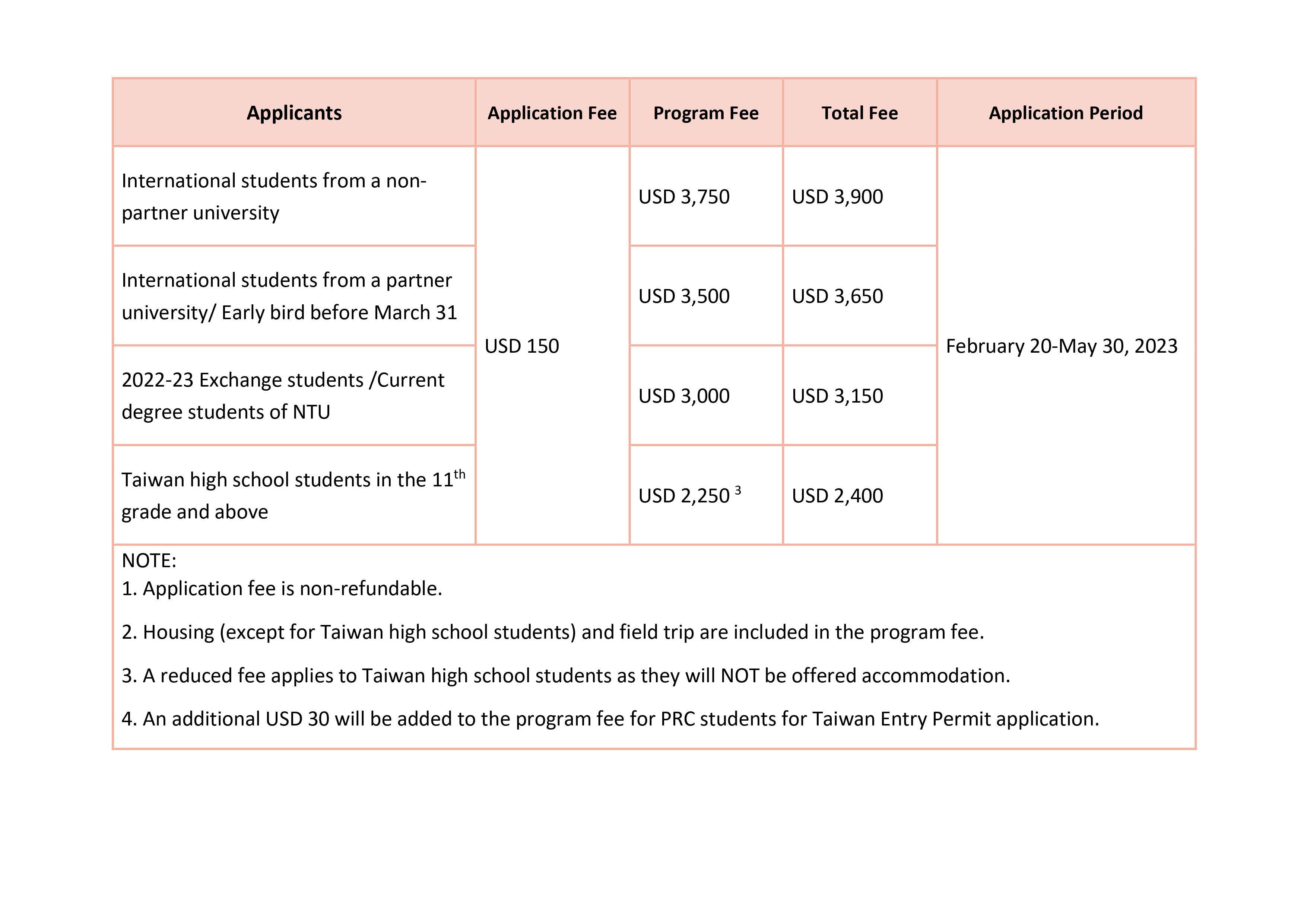 Refund Policy
The application fee is non-refundable under any circumstances.
The program fee is: 
fully refundable if NTU cancels the program.
90% refundable if the student cancels the program before the start of class.
50% refundable if the student cancels the program before finishing 1/3 of the program.
not refundable if the student cancels after finishing more than 1/3 of the program.
*Please note our program is a package, including some optional activities. The fee for activities won't be refunded if you choose to be absent from these activities.
How To Apply
Age: 16 or above
February 20-May 30, 2023
Application procedures:
Register and verify your email 
Fill in the online application form
Pay the application fee USD 150 online by credit card
Upload Documents:
- Proof of enrollment issued by current university/secondary school
- Identification page of your passport
- Proof of your English proficiency level
- A motivation letter in English
Check the result: The submitted documents will be reviewed by NTU and will send the acceptance/rejection notice.
Pay the program fee with 5 working days after receiving the acceptance notice. You can choose to pay by bank wire or by online credit card
After NTU confirms your payment status, you are able to fill in admission information. NTU will send you the Admission Letter and Pre-departure guide before the program starts.
* If you pay the program fee by bank wire to Hua Nan Commercial Bank, NTU Branch, please note that you need to consider exchange rate discrepancy and the wire fees charged by your bank and Hua-Nan bank in order to make sure you make the exact amount payment to NTU account. Hua-Nan bank may charge additional USD 20 wire fee.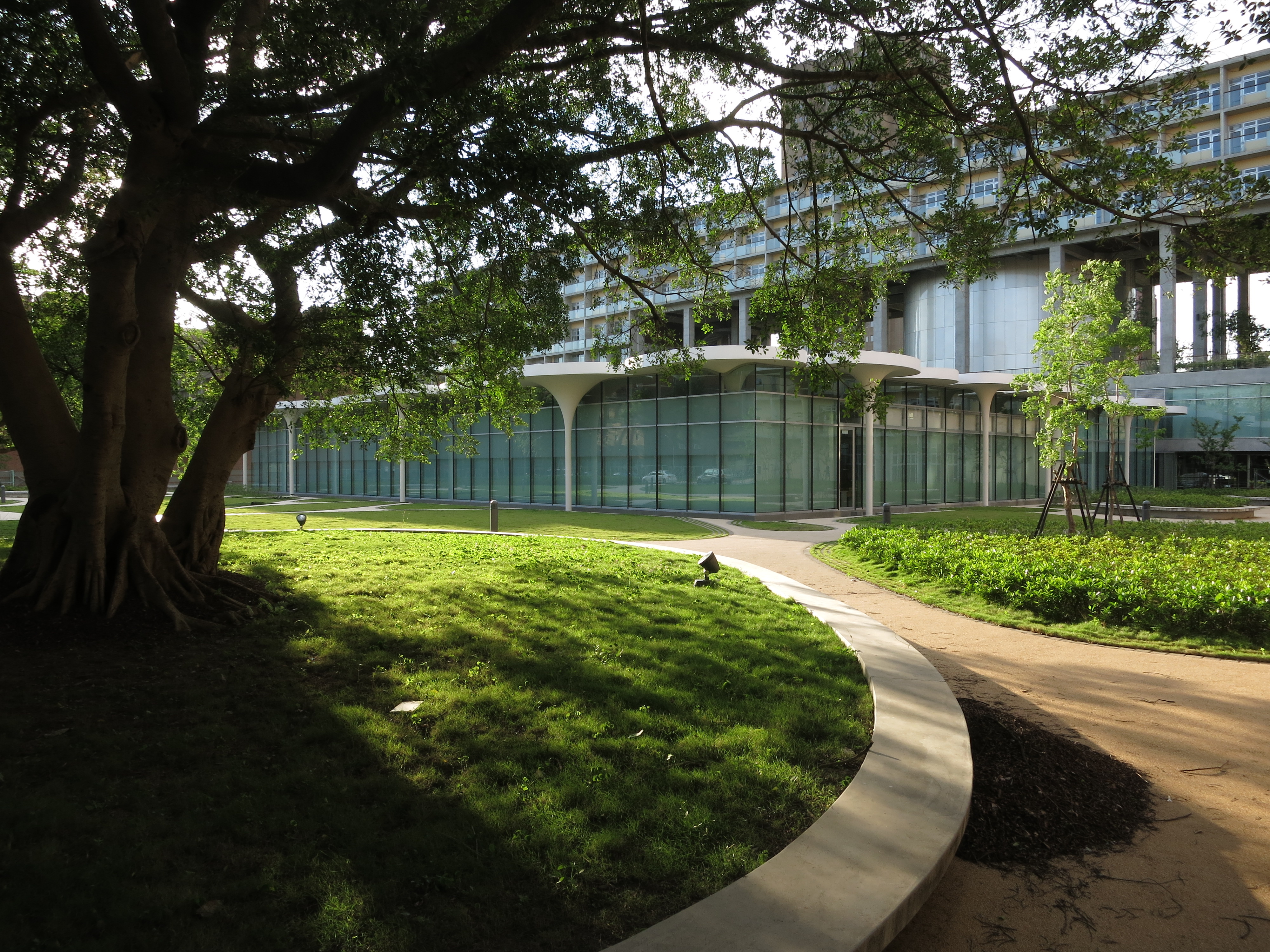 Ms. Shiau-ying Hung (Sheila)
syhung@ntu.edu.tw
Tel: (+886) 2 33668434