About
This program is designed for students who are interested in wildlife conservation with a focus on the wildlife in Sabah, Malaysia. The students will learn the basic principles and fieldwork techniques in ecology, as well as the fundamental concepts in wildlife conservation. The students will first have some prior trainings at NTU and the Taipei City Zoo, which has a great display area for the tropical rainforest wildlife. This is followed by a 8-day overseas trip to Danum Valley Conservation Area, Sabah, Malaysia. The students will have chances to explore the amazing biodiversity in the lowland rainforest of Borneo.
Experiential Learning
The program will allow the students to have hands-on experiences in studying tropical biodiversity.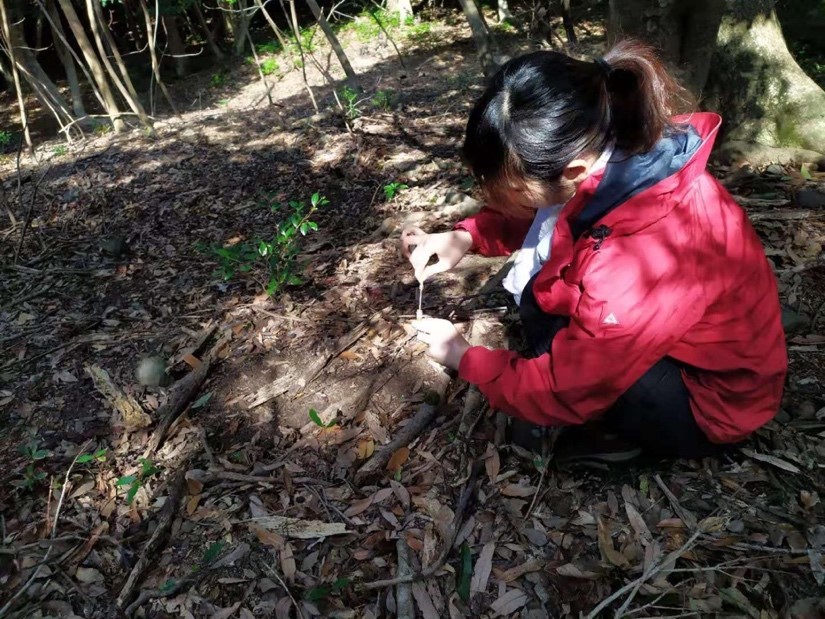 Tropical biodiversity and conservation
This course will familiarize students with the tropical biodiversity and conservation, with an focus on primate ecology and behavior in captive and natural settings.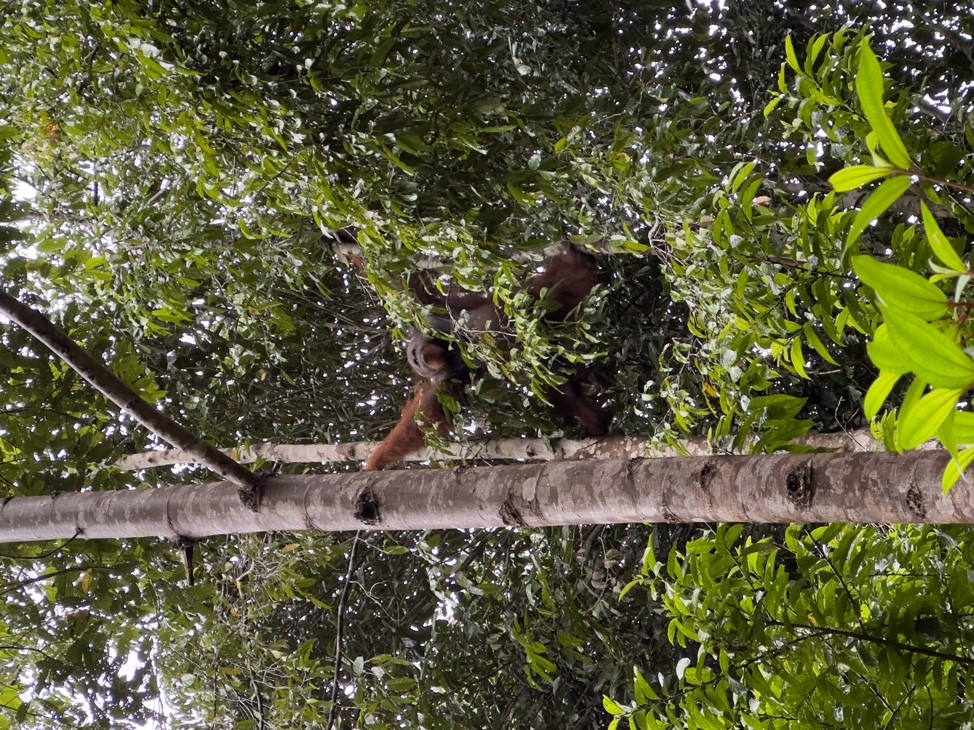 Course
2023 Summer+ Programs
Tropical biodiversity field course (June 27- July 10, 2023)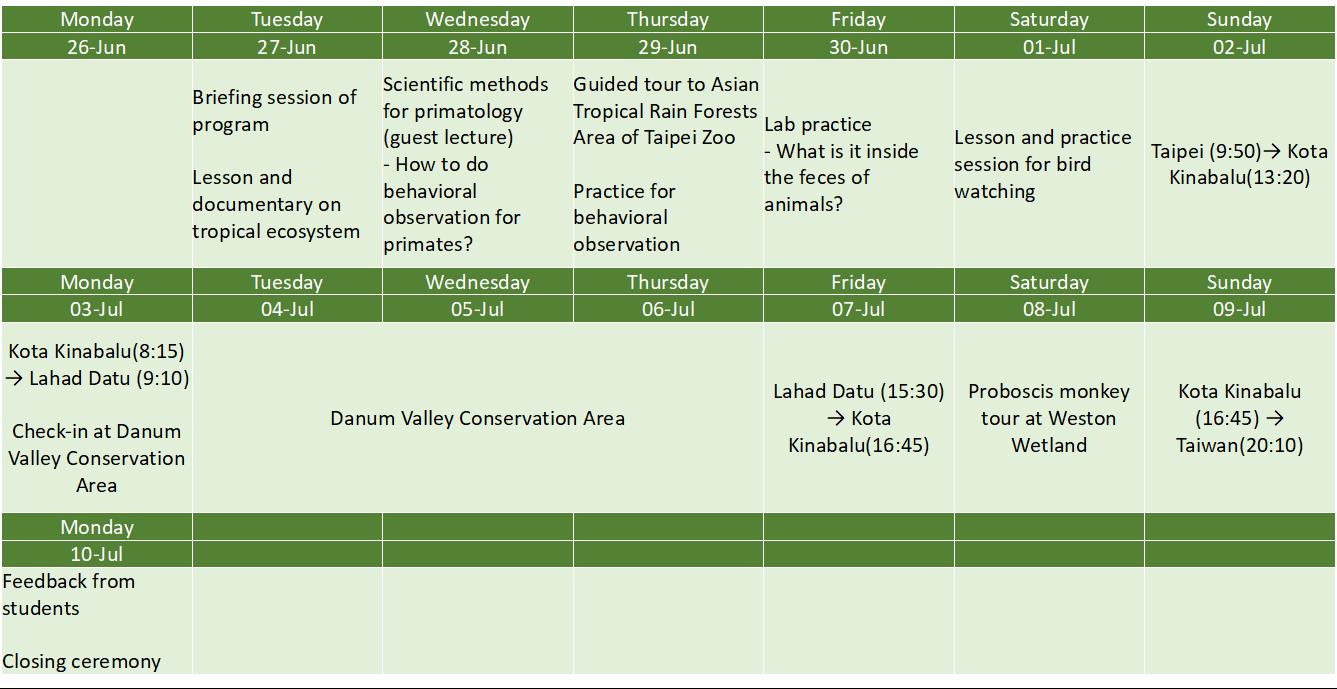 Fees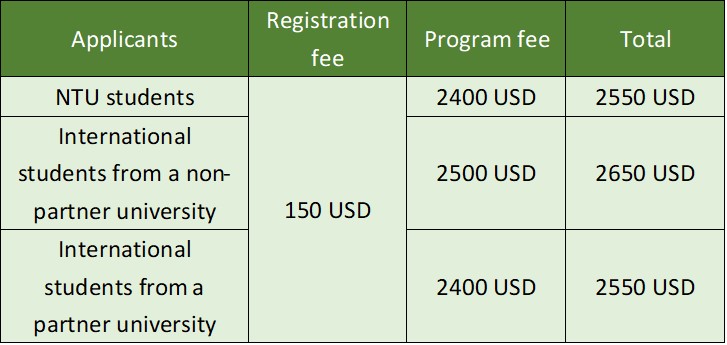 *Housing information is to be confirmed.
Refund Policy
The application fee is non-refundable under any circumstances.
The program fee is: 
fully refundable if NTU cancels the program.
90% refundable if the student cancels the program before the start of class.
50% refundable if the student cancels the program before finishing 1/3 of the program.
not refundable if the student cancels after finishing more than 1/3 of the program.
*Please note our program is a package, including some optional activities. The fee for activities won't be refunded if you choose to be absent from these activities.
How To Apply
Since there will be fieldworks involved, students must be physically fit for walking in the humid tropical rainforest, and able to adapt to change environmental conditions, e.g., temperature, humidity, rainfall, and insects. 
Before April 30th, 2023
Application procedures:
Contact Dr. Wanyi Lee (wanyilee@ntu.edu.tw) first before you apply, since there is a limit in number of participants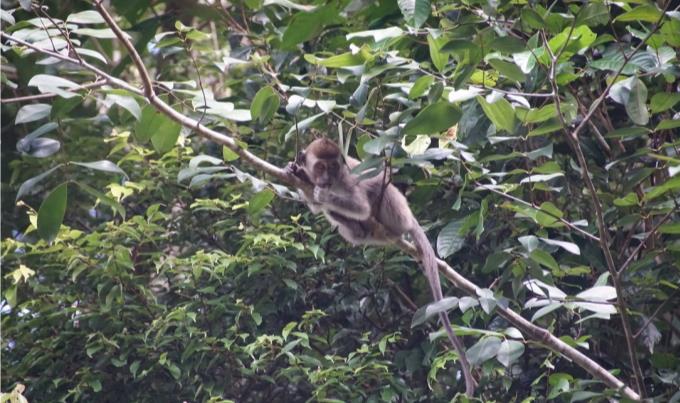 Wanyi LEE (Ms.)
wanyilee@ntu.edu.tw
Tel: +886-(0)2-3366-5712 #24